Outlaw Rampage -1/10 Scale Radio Controlled Electric Powered 2WD Truck
Brand: Kyosho
Regular

$236.99
Sale

$236.99

Regular
Unit Price

per
Experience the dynamic control of this 2WD trophy truck, packed with optional performance parts as standard.
Embodying the defining mechanics of a real production model trophy truck, the scale 2WD Outlaw Rampage is about 80% pre-assembled in an ARR kit, including the optional upgrade components that mark this machine as a "PRO" version. While power and steering control is more challenging than a 4WD model, the superior running stability and overall functionality of this rear wheel 2WD is realized from the roll cage, long stroke aluminum oil shocks, stabilizers on front and rear with 3 different wire gauge settings, and aluminum skid pads that protect the chassis. With easy controllability and wider scope for setting adjustments, the true dynamic performance of 2WD truck racing is in your hands.
●ARR Kit is nearly fully pre-assembled and includes performance-enhancing optional parts as standard.
●Full ball bearing specifications (20 bearings) ensure smooth movement with minimal drive loss.
●3-piece front bumper protects the chassis from hard crash damage.
●Front double-wishbone suspension with longer sus arms realizes excellent driving stability and traction.
●Rear suspension is linked to the rigid axle differential to deliver smooth movement and superior traction control.
●Gearbox features 32-pitch module counter gear and diff gear. Reinforcement of both gears and large modules realizes increased strength (spur gear is 48-pitch).
●Lever lock holder allows easy removal of battery.
●Connector holder allows connector to the radio plate to be removed with one hand.
●Hex screws are used throughout for easy maintenance.
●Pre-cut clear scale body recreates 1970-80's trophy truck style.
●Choose either square or round headlights with the two front grill styles included.
●Compatible with LED light unit (No. 97054-2: two lights, 97054-4: four lights) for easy installation.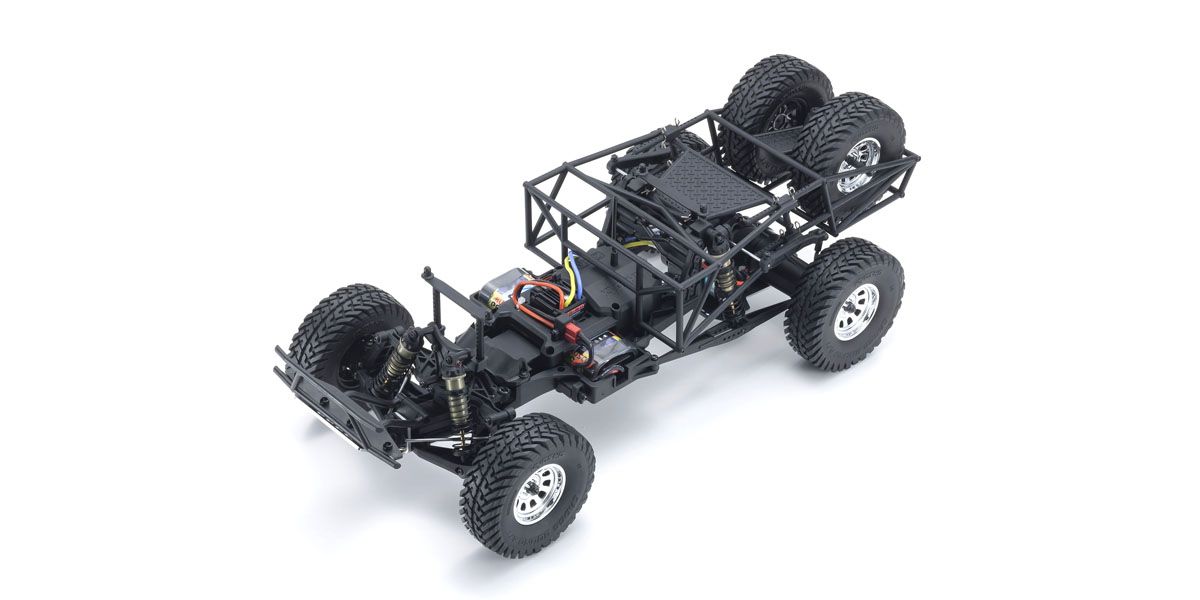 High strength and easy maintenance of the bathtub type chassis combines with a reinforced frame and dustproof monocoque radio box for high durability in hard driving.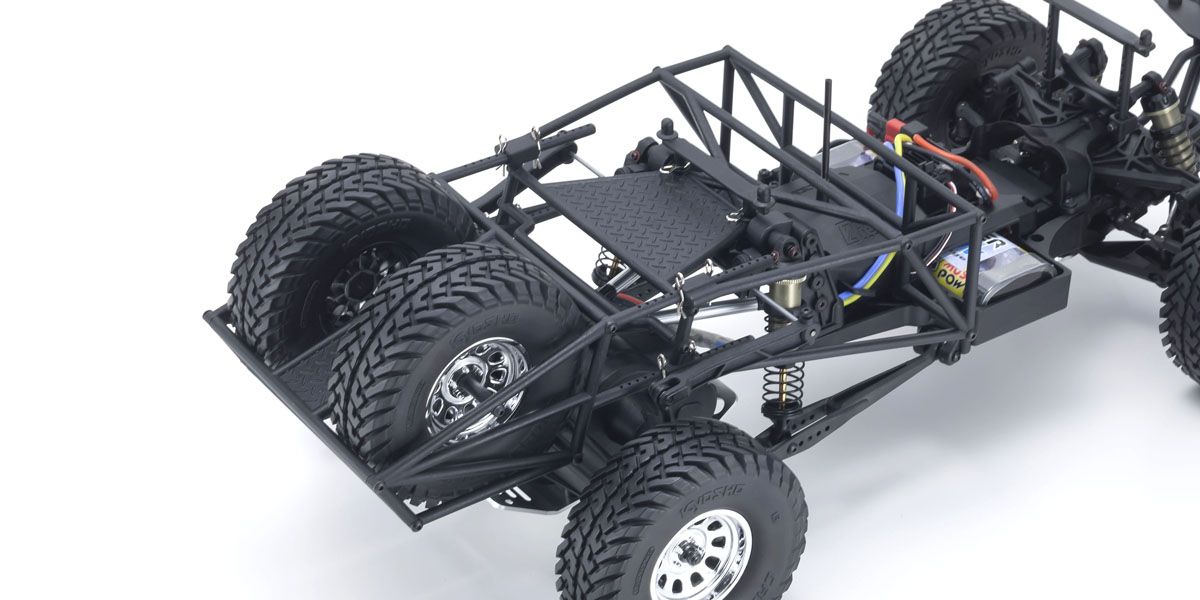 Real roll cage with two spare tires not only delivers scale appearance but also provides structural and setting functionality. Changing from horizontally mounted tires to 1 vertically mounted and changing the length can alter the weight balance for adjustment of rear traction characteristics.
Mounting 1 or 2 tires as well as changing the longitudinal length significantly influences rear grip. These parts play a functional role in enhancing driving stability.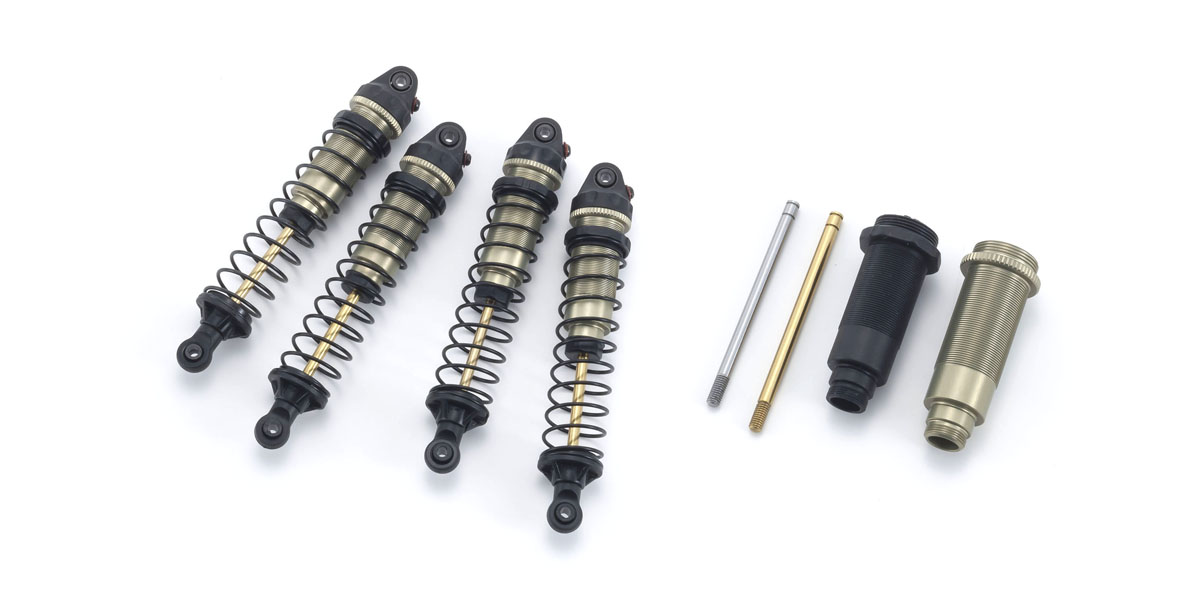 Aluminum oil shocks feature scratch-resistant hard anodized cases that work in combination with titanium coated shafts for smooth shock movement. Large capacity aeration-type shock absorbers with long stroke promise superior performance over the roughest terrain.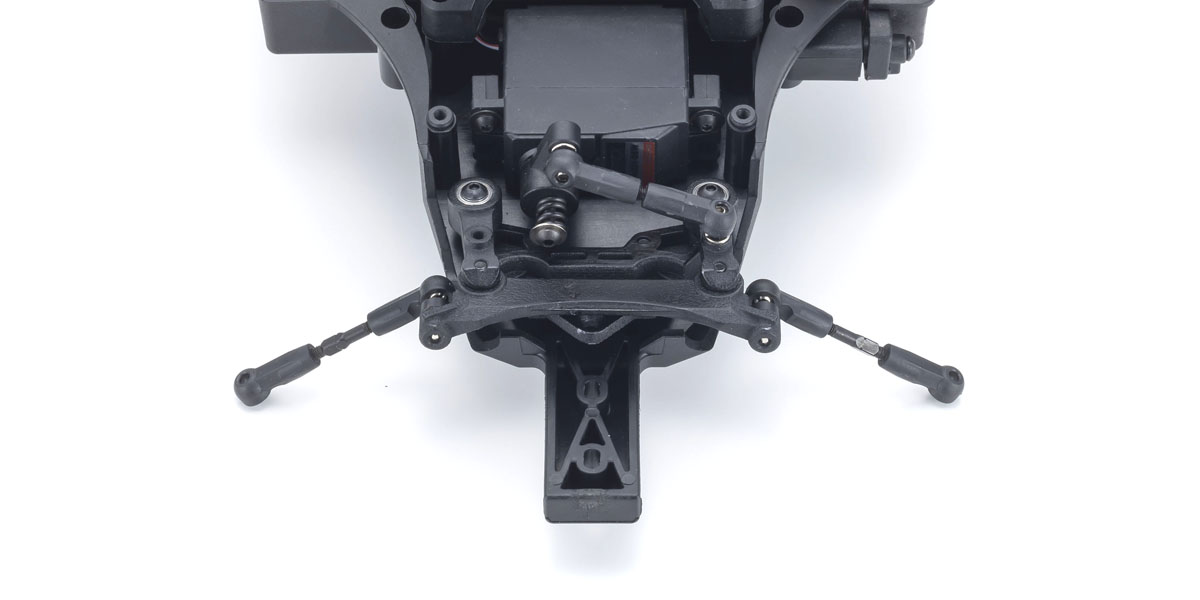 Wiper style steering system delivers improved durability and reliability for off-road performance. Turnbuckle tierods with front toe angle adjustment are included as standard. 6 ball bearings (4 in wiper post, 2 in steering plate) realize ultra smooth movement.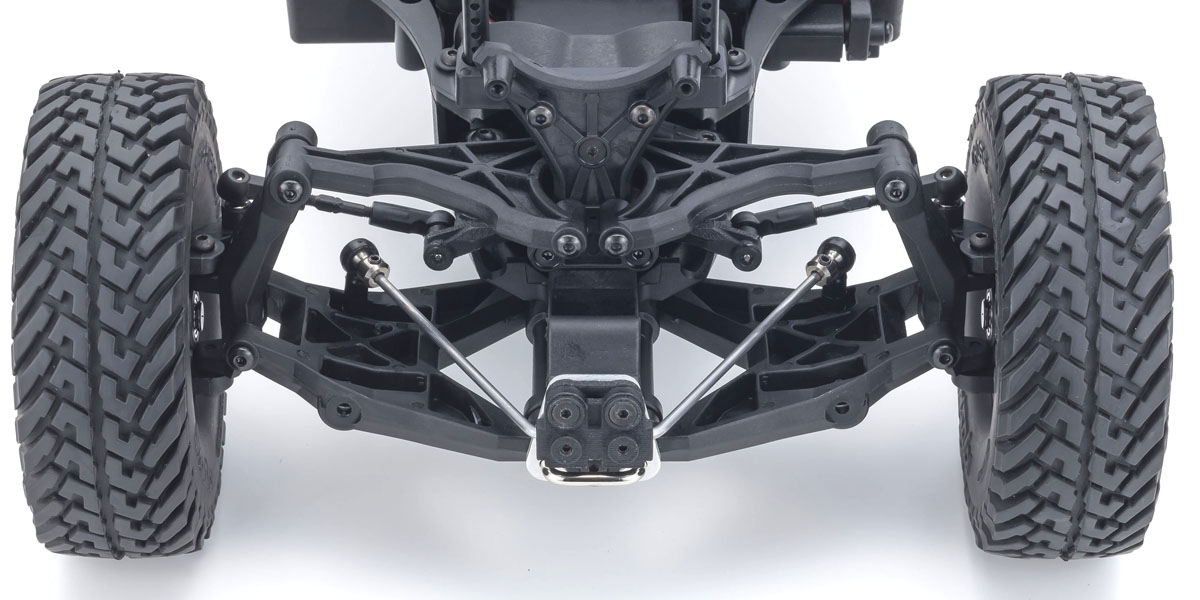 Stabilizer bars equipped on front and rear control chassis roll through cornering to improve driving stability. Three wire gauges are available for setting according to specific conditions: 1.8/2.2/2.6mm for front, 2.2/2.6/3.0mm for rear.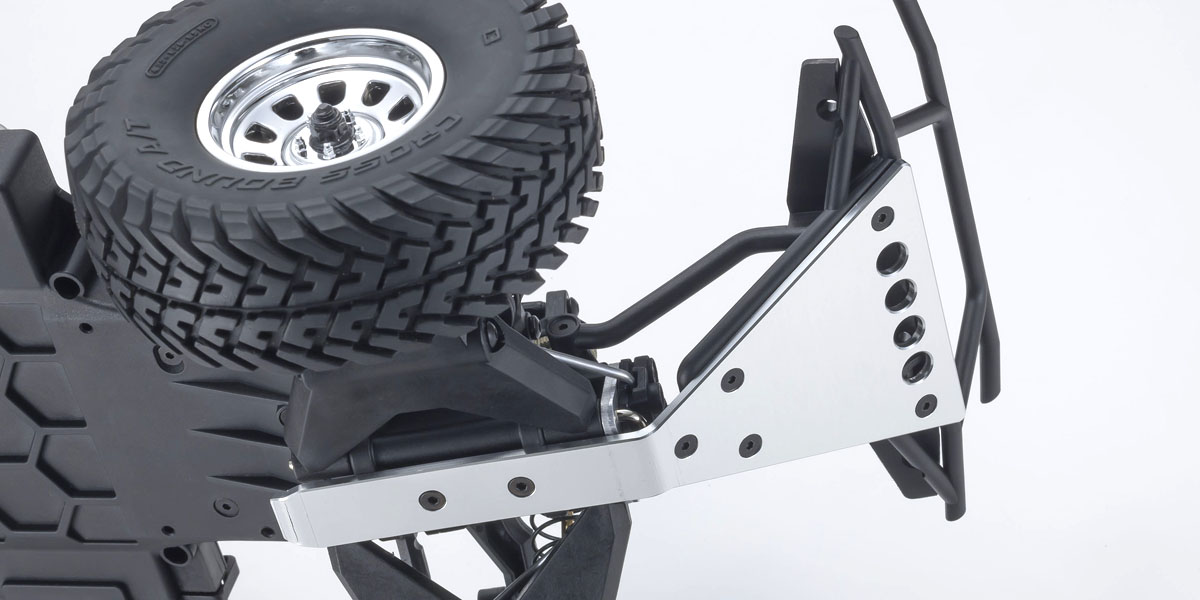 Aluminum front skid pad protects the front bumper and chassis and completes the powerful look and feel of a real trophy truck.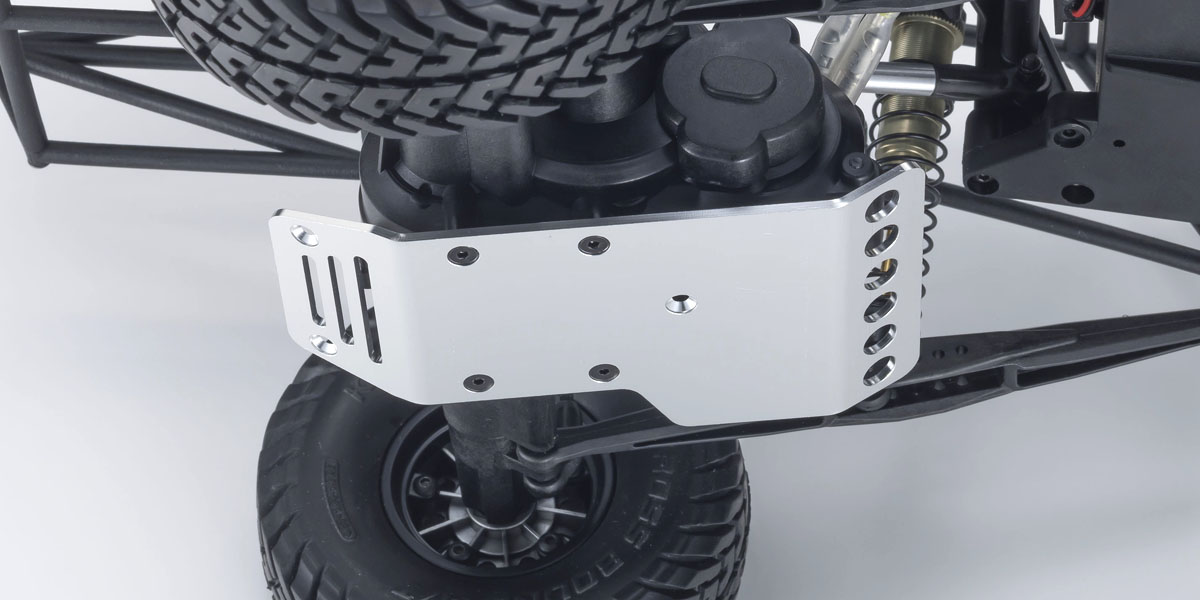 Aluminum rear skid pad not only protects the motor and gearbox over rough roads and jump landings, it adds weight to the underside of the chassis to lower the center gravity to improve running performance.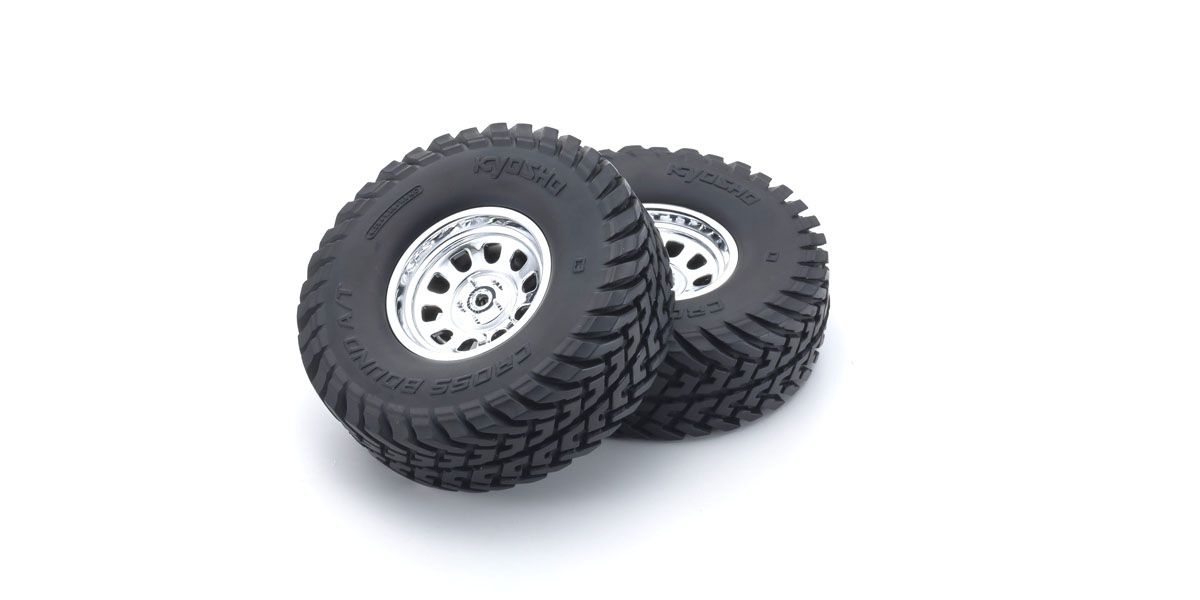 Original tread pattern tires match the body style to replicate real truck style while delivering dominant driving characteristics. 3-piece structure of the silver-plated wheels remove need to glue tires while recreating that real truck look. Can be disassembled to wash rubber tires.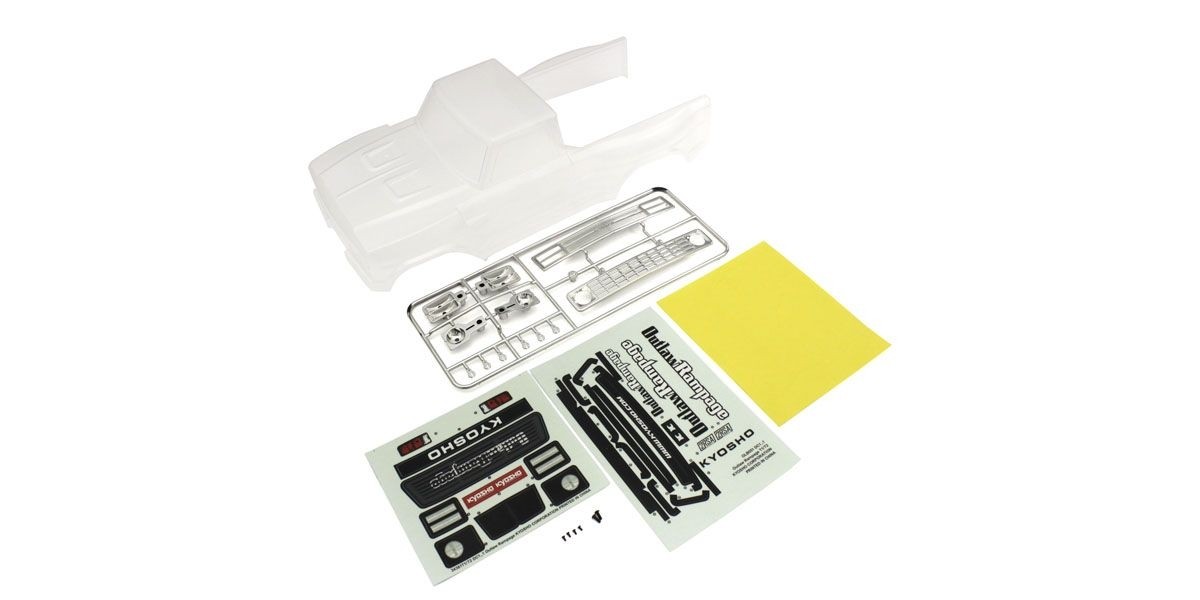 This kit does not include line decals.
■Length 561mm
■Width 262mm(with body)
■Height 231mm(with body)
■Wheelbase 335mm
■Tread (F/R) 204mm/204mm
■Tires (F/R interchangeable) φ108×38mm
■Gear Ratio 12.65:1
■Weight  2600g (approx.)
<Set Contents>
●Approximately 80% pre-assembled ARR kit
●Pre-cut clear body
●Decals
●Hex wrench
●Cross wrench
●Shock oil
<Required for Operation>
●2ch 1 servo R/C system for cars
●540 class motor
●ESC compatible with motor
●Battery for chassis
●Battery charger
●Paint for (polycarbonate) body
●Batteries for transmitter
●Tools